Information About The Henderson Detention Center and Henderson Nevada Jail
The Henderson Detention Center is located in downtown Henderson, NV, and is one of the smallest and arguably most well-built centers around Las Vegas, sometimes jokingly referred to as a resort.
Located next to three adjoining buildings, the Henderson Police Department Jail, the Henderson Constable's Office, and the Henderson Municipal Court, the detention center holds those who have been arrested in the Henderson area. The adjacent Henderson Police Department Jail has a staff of approximately 110 people and a capacity of several hundred inmates. It is open 24 hours, seven days a week, and offers medical and dental care.
The Henderson Detention Center's address is 18 E Basic Rd, Henderson, NV 89015.
Are the Henderson Detention Center and Henderson Nevada Jail the Same?
There is often some confusion about whether or not the Henderson Detention Center and Henderson Nevada Jail are one and the same. The answer is, yes they are.
The detention center is used to detain people who are being processed for immigration or criminal violations AND used to house people who have been convicted of a crime.
The Henderson Detention Center is a secure facility that houses adult male and female inmates who are awaiting trial or sentencing and who have been convicted and sentenced to less than one year in jail.
Facilities at the Henderson Detention Center and Jail
The Henderson Detention Center offers a variety of services and amenities to inmates and detainees. The facility features a gym, a library, and a chapel.
The jail also has a medical unit that offers health care services. In addition to these, the jail also has an on-site kitchen that prepares three meals per day for the inmates.
Services at the Henderson Detention Center
The Henderson Detention Center offers a variety of inmate programs to provide inmates with opportunities to improve their lives. These programs include education, vocational training, life skills training, substance abuse treatment, and religious services.
The education program offers GED and high school diploma classes as well as English as a Second Language (ESL) classes.
The vocational training program offers courses in construction, welding, and culinary arts. The life skills training program includes classes on anger management, conflict resolution, and parenting.
The Substance Abuse Treatment Program helps inmates overcome addiction to drugs or alcohol.
The religious services program provides inmates with the opportunity to practice their religion while incarcerated.
How To Send Money To a Friend or Family Member
You can place funds in an inmate's commissary account by calling the detention center or by using the Smart Deposit kiosk, which can be found in the detention center lobby. Alternatively, you can use the Smart Deposit kiosk online. The funds you send can be used to purchase snacks and other miscellaneous items.
The Henderson Detention Center proper is open from 8 AM to 5 PM, Monday through Sunday but does have 24-hour access to bail postings, as well as to questions for those who need answers. Lobby hours, in particular, are every day from 8:00 AM to 12:00 PM and 1:00 PM to 5:00 PM. Please Note: From 12:00 PM  to 1:00 PM, the lobby is closed every day.
The Henderson Detention Center's address is 18 E Basic Rd, Henderson, NV 89015.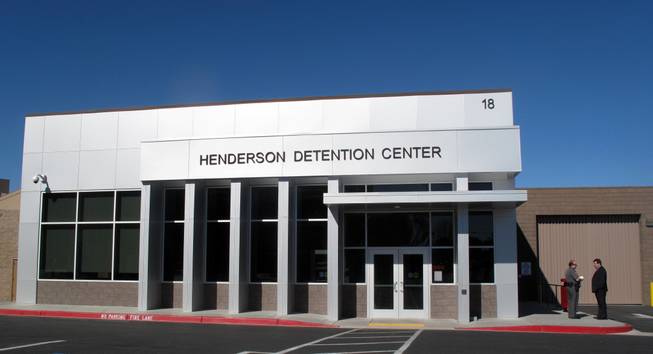 How To Visit
Visitation hours for The Henderson Detention Center are Wednesday through Sunday, 8:00 AM to 11:00 AM and 1:00 PM to 4:00 PM. There is a cap to how many visits are allowed per week, no more than two, and each visit is limited to 20 minutes. Before you visit, an appointment is required, and you will need to have an official form of identification with you when you come.
How Long Is the Average Sentence for Someone at the Henderson Detention Center?
On any given day, the Henderson Detention Center (HDC) houses around 540 people. Of these, the majority are either awaiting trial or serving sentences for Nevada misdemeanors that are one year or less. So, how long is the average sentence for someone at HDC?
Unfortunately, there's no easy answer to that question. The length of a person's sentence can depend on a variety of factors, including the severity of their crime and their criminal history. That said, most people at HDC are serving relatively short sentences – typically six months or less.
There are some exceptions, of course. For example, people who are convicted of a second-time misdemeanor offense will typically serve a longer sentence than those convicted of a first-time misdemeanor. And in cases where someone is awaiting trial, their stay at the center may be extended if they're found guilty.
How To Get Out Quickly
If you or a loved one find yourself arrested at Henderson Detention Center, there are a few different things you can do. You can wait for your first court date and see if the judge will let you go. Once you have had your first court date, you can wait in jail until your trial reaches a verdict. Keep in mind that this can take up to a month. Or you can bail out, which is by far the fastest option.
Once your bail amount has been set, you will most likely need a bail bonds agency to help you pay your bail. That is where we come in! We have been helping people get their bail bonds for more than 25 years and can walk you through the entire process. With your information, we can post your bail very quickly. We also offer flexible payment plans designed to fit your budget.
If you would like to talk to us about your different options and find out more, we would love to hear from you! Call us at (702) 333-2663. Also, you might consider checking out our home page, which has a lot of great information!
Who Are We?
We are a bail bond agency that provides bail bonds for those who have been arrested and need to be released from jail. Our services are available to those in the local community as well as those who are visiting the area.
Getting arrested can be a very stressful experience, which is why we work hard to ensure that our clients receive the best possible service. We are here to help you get out of jail and back home with your family as quickly as possible.
Why Work With Us?
1. We have decades of experience.
2. We are knowledgeable. Not only can we walk you through what to expect, but we can also help you understand the conditions of your bail, how to keep your court obligations, and what to do if you miss a court appointment.
3. We are fast. We can post your bail within minutes of getting your information.
4. We offer flexible payment options, accommodating your financial needs.
5. We are located right here in Las Vegas, only 30 minutes from The Henderson Detention Center.
Other Questions And Concerns
If you have other questions about The Henderson Detention Center that have not been touched on here, we recommend checking out the Henderson Detention Center FAQ page. It has information about how to mail items to inmates, what you are allowed to send, how to release inmate property, inmate release times, and more.